About Senior Care Center Cedar Crossings in Portland, OR
At Cedar Crossings, we specialize in providing nursing and specialty care for our residents. As an Intermediate Care Facility we provide long term care services to help residents who would benefit from support for related memory loss, challenging behaviors and complex health care needs. Our residents may not be able to live on their own, but they can still live dignified lives supported by our caring team.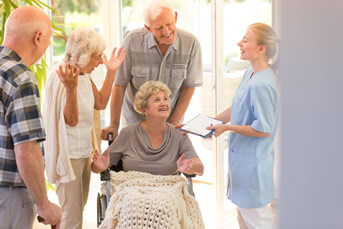 Our senior care center team wants to put your heart and mind at ease. We want you to feel good about the community you select to care for your loved one. Our experienced staff provide memory care for seniors, nursing services and behavioral support for challenging behaviors; all in a secure, protected and calm atmosphere.
Each day a team of licensed nurses coordinate the care needs of your loved one. Certified nursing assistants support their daily activity needs which may include bathing, dressing, grooming and medication management or administration. Meal time is special and not forgotten as each resident's unique meal time and nutritional needs are supported by a registered dietitian.
Support for those with Alzheimers/Dementia & Challenging Behaviors
Many people who live in long term communities have challenges. We are an experienced team who are prepared to address the needs of those with Dementia and challenging behaviors. We provide resident centered approaches that support each person's day-to-day needs and problem solving for those with episodic behaviors. Our goal is to enhance the quality of life for all of our residents.
It's a fact that no two people are the same or require the same exact treatment regimen. Our health care professionals communicate with you, your family and your physician to determine your exact daily needs. Cedar Crossing's highly skilled clinical team provides the care you need to from day to day with an attention to care and detail.
Those who stay at Cedar Crossings experience a warm family atmosphere where all who live and work here can interact and be part of the daily routine. We are a smaller facility, and that enables us to focus on meeting individual wants and needs. You will experience that personal touch when you stay with us.
Contact us 
Portland Long Term Care and Rehab Services for Seniors Today!
Caring and Committed Staff
24-hour Licensed Nurses
Restorative Nursing Care
Respite and Hospice Care
Comprehensive Care Planning
Medication Management
Nutritious Meals and Snacks
Stimulating Recreation Programs Daily
Utilities, with the exception of telephone and cable services
Payment Options
With Sapphire at Cedar Crossings our rates are competitively priced. We are one of the most affordable and still continue to offer all of the services that make daily living comfortable and fulfilling. Cedar Crossings offers a wide variety of payment options; we are honored to accept authorized payment from the following providers:
OHP (Medicaid)
Providence Elderplace
Hospice
Private Pay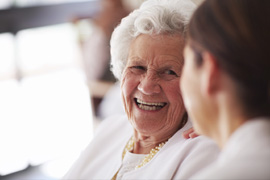 Do You Have Questions or Need to Schedule a Tour?